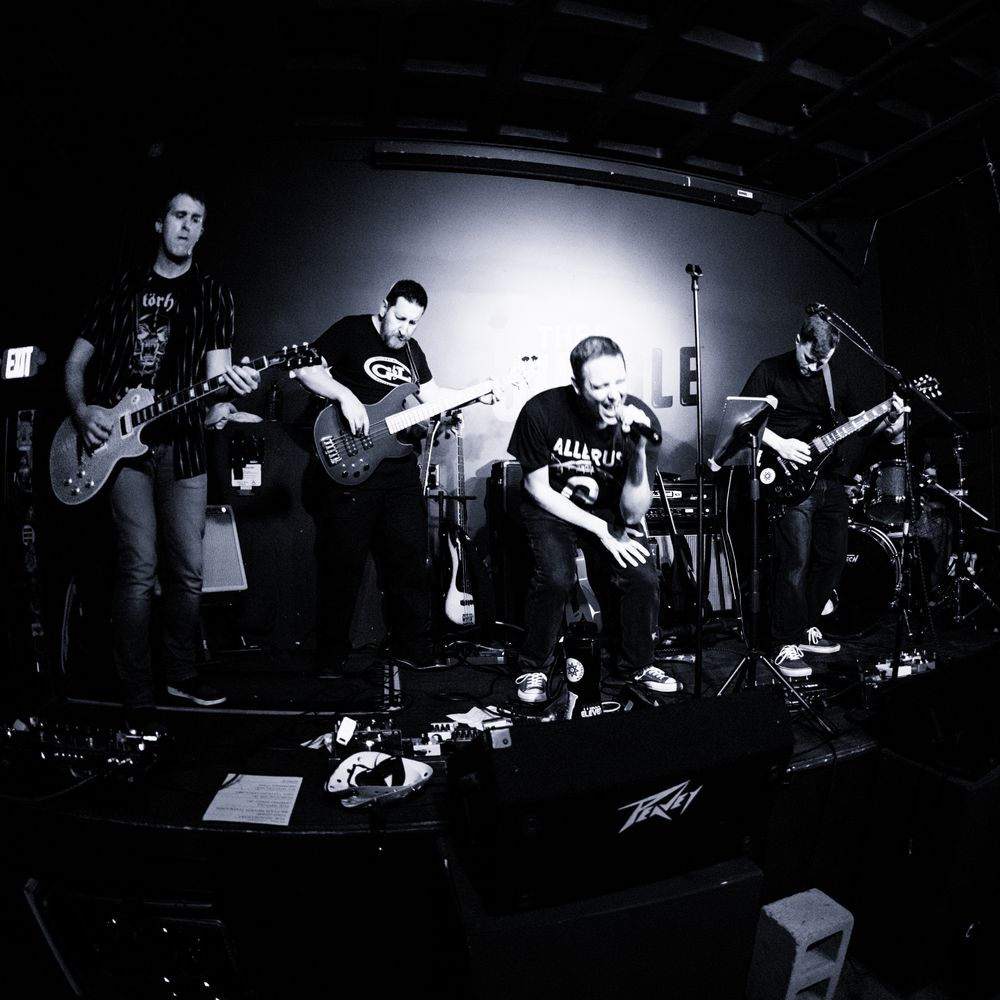 Shawn Valle - Vocals
Ian Kaloyanides - Guitar, Baritone, and Vocals
Ken Cerreto - Guitar and Baritone
David Jamison - Drums and Percussion
Josh Prost (Numba9ne) - Bass
Octavate is a Boston-based Hard Rock Alternative Grunge Metal band that began in 2020. You 'll hear influences from Audioslave, Incubus, and Tool, but the sound is ultimately unique. Baritone is the stringed instrument, not guitar in many songs, and you can feel the low growl in your jaw if you listen loud enough. And Shawn ' s singing is incredibly powerful – each song builds emotion and feeling. Their cover of Money Changes Everything is eyebrow lifting, and My Wasteland is jaw dropping. Octavate ' s first EP "Better Never Than Late " is available on all major streaming mediums including Spotify, Amazon, Apple Music, and more. Catch the band live if you can.
Shawn Valle leads Spartan Valley, and hosts a Twitch channel that' s recently exploded with weekly followers and watchers. After success in local bands as well as creating original music in other rock projects, Shawn and JP joined forces to create Octavate. Now, with David Jamison (Drums), Ian Kal (Guitar) and Ken Cerreto (Guitar), they are taking the Boston music scene by storm.
Ian joined Octavate in May 2022 on guitar and backing vocals. Some of his influences include Soundgarden, Alice In Chains, Stone Temple Pilots, Foo Fighters, and Tool - many of which his previous band No Way Back covered. Ian had been looking for an original band play with. As soon as he heard the initial Octavate tracks, he knew it was going to be a great fit. Josh found Ian on Bandmix and they both saw eye to eye almost instantly. Ian is excited to be playing with incredibly talented, like-minded musicians and has found a home in the band.
Ken joined up with Octavate in the summer of 2022.  Ken's first taste of Octavate was hearing My Wasteland and it was love at first listen.  The song's heavy sound, dynamic rhythms, and the story told all instantly resonated with Ken.  Before the track finished playing, Ken had looked up Josh online and made a case for adding a second guitarist to the band.  In his previous band, The Winter Project, Ken's lead guitar work elevated the band's sound both live and in the studio, breathing hard rock guitar life into their lonesome dirges and gloomy alt-rock sound.  Ken has found a great new home with Octavate, he loves the music, the collaboration, and the inspired musicians in the band. 
David's life traveling and playing drums brought him to the Boston area in 2022, and to a serendipitous gig with Octavate that would prove to be the beginning of the next musical chapter in his life. Thrilled to be part of the band, he's back home in the sound of his earliest influences (Soundgarden, Deftones, et al.), after a roundabout career path through pop, folk and Americana.
Numba9ne has been writing songs since the early '90s and has played the Boston Scene for three generations. In addition to Octavate, he founded Jack Prost Band, a more Pop-Rock project, and Numba9ne, a much heavier Rock / Alternative project that' s still releasing fantastic Boston Rock. JP is also a DJ on Harmonic Headspace, a live worldwide syndicated radio show on Wave Radio Boston.